In continuing with our theme of sleep and how it affects your overall health, today we want to discuss how quality sleep benefits the body, finding the right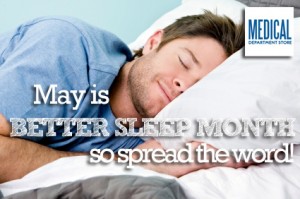 mattress and how Medical Department Store can help you find comfort in your sleep.
Why does quality sleep matter? Our friends over at Health Magazine identified these proven benefits to getting good quality sleep:
It can improve memory
It can help you live longer
It curbs inflammation
It spurs creativity
It helps athletic performance
It can improve your school (and work) grades
It sharpens your attention span
It helps you maintain a healthy weight
It lowers stress
It can help you avoid accidents
It reduces depression
Honestly, any of these reasons should provide enough motivation for you to get more sleep. A key component of that is the mattress you sleep on.
What size bed is right for you? What does the size of the bed have to do with how well we sleep? Why does it matter how well we sleep? Here's a basic size chart of modern beds:
California King is 72" x 84"
Standard King is 76" x 80"
Queen is 60" x 80"
Full size or Double is 53" x 75"
Twin is  38" x 75"
While you need enough space, you also need a mattress that isn't lumpy, sagging or old. If you've have your spring mattress for six or seven years, it's time to invest in something new.
People with a variety of illness or physical needs may do better in adjustable hospital beds. Medical Department Store carries electric beds, semi-electric beds, standard and bariatric varieties. We also carry special mattresses, pads and over-lays to help with issues like pressure sore and incontinence. We also carry safety railings and trapeze lifts for increased safety and maneuverability. We invite you to come to Medical Department Store during Better Sleep month and see what we have to offer.
We hope this month's tips will help you and your family rest easier and live better. We'll be back next month with more health-related information, so watch for updates!
Tags:
quality sleep