At Medical Department Store, we know that aging and disability related issues can be hard to deal with, especially when it deals with your home. Whether the changes occur slowly with aging or a progressive illness or if these changes happen suddenly because of a stroke or accident, they can still feel overwhelming. We want to give you some commonly modified areas of the home so that you can start planning on what changes would be best for you and your family.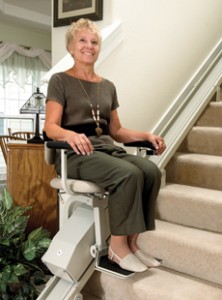 Stair lifts are probably one of the most common home modifications. Stair lifts are becoming more and more popular as the population ages and have more trouble getting up and down the stairs safely but still want to stay in the home that they have put so much love and care into to. In older two-story houses, the bedroom and bathrooms were built on the second story and washers and dryers were in the basement. That wasn't a problem when you bought the house and were raising a family, but now those stairs can be like climbing a mountain! The injuries from falling down even a short flight of stairs can cause serious injury and even death. You can also install a stair lift outside of your home that will help keep your independence.
Today's stair lifts are designed to be quiet and efficient. These stair lifts can be installed to fit almost any size or shape of stairs. Stair lifts come with accessories to aid in going up or down your stairs. The sleek design doesn't take up much room on the stairs, allowing for "non-users" to walk up and down safely. Many people actually use these lifts to carry laundry and other heavy or awkward items to allow them to take the stairs more safely. The important thing is that these lift give you choices. You can choose where and when you need them, and more importantly, you can choose to stay in the home you love.
Contact Medical Department Store today and let us tell you more about the stair lifts we offer and what they can do for you.
Tags:
Independence
,
Safety
,
Stair Lifts