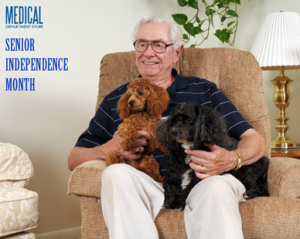 February is Senior Independence Month and Medical Department Store loves anything that celebrates seniors! We want all seniors to live happy, safe and independent lives as long possible. Here are some suggestions to help maximize their independence and still be safe.
Avoid the dark and turn on the lights.  Our eyes react differently to light as we age and older eyes may require more light. Dim and poor lighting can lead to falls and the loss of independence or worse, so turn on the lights in the house and outdoors after dusk. Use more lamps and overhead lights. NEVER walk through a dark room or down dark stairs.
Mind your medication with a med-minder. Medication errors or forgetting to take medications can lead to major health issues and loss of your independence. Using a daily or weekly med-minder can be a lifesaver. Talk to your pharmacy about having our medications placed in a med-minder today.
Utilize the senior services that are available in your area. Senior meal sites and programs like Meals-on-Wheels are present in most communities. Having good and enough nutrition can be the difference between staying independent and having to leave your home.
Know your limits. It may be hard to admit that you can no longer do everything you used to do, but getting hurt because you were cleaning the gutters or trying to mop the floor is worse. Look into senior chores services or home health services. You can also hire these jobs done at decent rates.
Beware of the bathroom!  Bathrooms are one of the biggest areas of injuries in the home. Having the right pieces of bath safety equipment can help. Ask the experts at Medical Department Store about how a shower bench or chair, a raised toilet seat or bath lift can make the bathroom safer.
Medical Department Store would love to hear from you during Senior Independence Month. Let our experts find you the equipment and products you need to live the life you want.