Are you living with Multiple Sclerosis or do you have someone close to you that has MS? Medical Department Store offers this information about Multiple Sclerosis to teach you more about this disease and to share equipment and products that can make living with MS easier.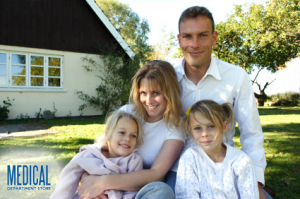 What is Multiple Sclerosis?  Multiple Sclerosis or MS is a disease that affects the brain and spinal cord. MS destroys the myelin that surrounds the nerves and act as an insulator. Without the myelin, electrical signals that are transmitted throughout the brain and spinal cord are disrupted or stopped due to the scarring.
What does sclerosis mean and where does it get its name?  MS gets its name from the buildup of scar tissue (sclerosis) in the brain and the spinal cord that can attack different parts of the body.
Who can get Multiple Sclerosis? Anyone can get MS. There are certain groups that are more at risk than others.
Multiple Sclerosis is most commonly diagnosed in individuals between the ages of 20 and 50
Multiple Sclerosis appears more frequently in Caucasians than in Hispanics or African Americans
Multiple Sclerosis is relatively rare among Asians
Multiple Sclerosis can strike both men and women but is more common in women
Multiple Sclerosis is not contagious and cannot be spread through contact or through the air or drinking water. Even doctors and scientist are not sure what causes MS and while there are treatments to slow the progress of the disease, there is no cure.
Is Multiple Sclerosis just a problem in the United States? No, Multiple Sclerosis is found worldwide. The latest stats show that there are currently 350,000 to 500,000 people in the U.S. who have been diagnosed with MS.  Worldwide, there are over 2.5 million people are living with MS.
Medical Department Store carries many products and pieces of equipment that that can be helpful to people with MS. From lift chairs and patient lifts to canes and scooters, we are able to deliver what you need to almost anywhere. See our list of products to learn more.
Tags:
MS Awareness Month
,
Multiple Sclerosis