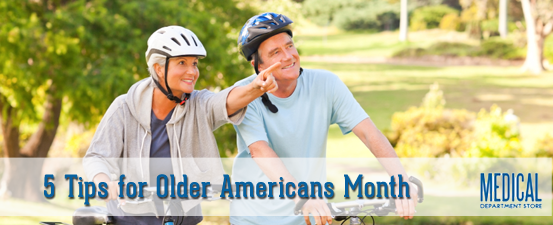 Each May, our nation celebrates Older Americans Month to recognize older Americans for their contributions. This year's theme is "Safe Today, Healthy Tomorrow," so Medical Department Store wants to provide older Americans with information that will allow them to continue to stay healthy and active.
This year the focus is to raise awareness on injury prevention. Medical Department Store wants you to consider these simple safety tips to prevent injury.
To lower the risk of falling or injury, have a doctor or physician review all medications to reduce the chance of dangerous side effects and drug interactions. Create a medication schedule or use a scheduler box to make sure you take no less or more than prescribed.
Maintain a diet with adequate dietary calcium and Vitamin D. Also, discuss physical activities that are appropriate for you. Regular exercise improves endurance, strength and balance.
Have your vision checked regularly. Sight plays a large role in preventing injuries at home, on the road and in the community.
Install handrails and grab bars wherever they are helpful, especially around stairs and in bathrooms. Also, ensure that there is enough lighting inside and outside of your home, especially around frequently used walkways. Nightlights are a great way to light up the bathroom at night.
Test smoke detectors regularly. Be sure to have a smoke alarm in or very near your cooking area. When cooking, wear snug-fitting or short-sleeve clothing and high-quality oven mitts that cover part of your arms to help reduce the chance of getting burned.
Medical Department Store wants a society where older adults can live safe, healthy and independent lives. Visit our online store or stop in to view our products that help prevent injury. Celebrate Older Americans Month this May and help older Americans live longer and healthier lives.
Tags:
older americans