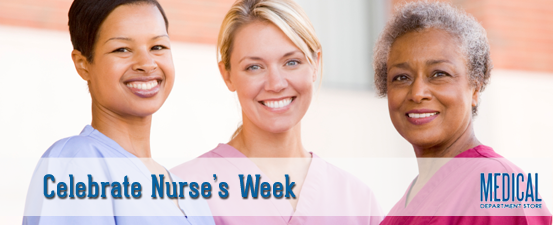 The Medical Department Store is thrilled to celebrate nurses and all that they do for their patients during National Nurse's Week, May 6-12.
Patients often recognize that a nurse is a health care professional with whom their families have the most contact, but some may not realize that nurses are leaders in improving the quality of care in our community.
Nurses have continuously been leading initiatives to increase access to care and improve outcomes by focusing on primary care, wellness, family care and providing information about health care providers.
If you're looking to celebrate the nurses who have helped you care for medical problems with you or a loved one, check out these five inexpensive ways to honor the special nurses in your lives.
Hand out Lifesavers with a note, "You are a lifesaver." Cheesy, but it will put a smile on their face!
Create a care package with candies or gift cards.
Post pictures of nurse teams in waiting rooms. Include their name and tell about one of their great qualities.
Host a small open house with treats and beverages in a break room to thank nurses.
Team up with a local elementary school or daycare to create art and thank-you notes for nurses.
Nurses are rapidly creating and expanding new job roles; such as nurse wellness coaches, care coordinator specialists or nurse navigators that help develop healthy lifestyle practices. A nurse's commitment to continuing knowledge, clinical skill, and patience is combined with a sincere commitment to patients and compassion for their families. Wherever health care is provided, a nurse is likely to be there.
Medical Department Store encourages you to thank a nurse for all that they do in our communities. If you are in the market for home medical equipment, Medical Department Store has the products necessary to make a speedy recovery and make a nurse's day easier.
Tags:
Nurse's Week