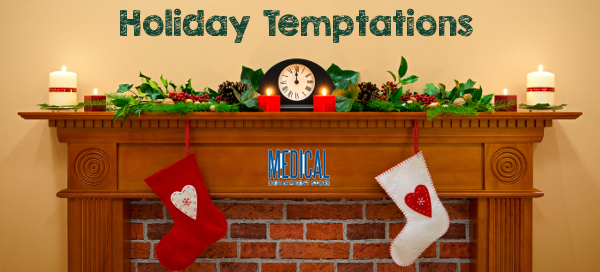 The holiday season is filled with temptations. From holiday feasts to the annual work party, it is sometimes hard to resist the delicious sweets.  You can still enjoy eating the delicious foods as long as you are conscious of your health while doing so. Many appetizers can be near 60 calories per bite, so be aware of what you are grabbing at the work Christmas party or the family gathering.
Holiday Health Tips for Indulging without Overindulging:
Keep your alcohol on the rocks. If you plan to drink over the holidays, putting the alcohol on ice will dilute the alcohol so you don't catch a buzz too quickly.
Turn down the pie. You shouldn't feel like you have to take a piece of pecan pie just because your sweet aunt made it. No one will have hurt feelings and you will feel better about yourself later.
Relax, you won't gain 10 pounds. Many people assume that once January hits, you'll need to go up a pant size. The average person only gains about a pound between the weeks of major holiday festivities.
Weigh in every day. This may seem intimidating, but weighing yourself every day will keep you in check. This will help you gauge your losses and gains throughout the holiday season.
Count your appetizer bites. Like we said earlier, appetizers and snacks can add up quickly. Try getting only a small plate to fill so you will feel like it is a lot of food but in reality it is not. Also try holding a drink in one hand and your food in the other; it is much harder to eat with one hand.
The holiday season is great for spending time with family and friends, but you don't need to go overboard to have a good time. The Medical Department Store is here through the holidays, so contact us for all of your medical needs.
Tags:
healthy holidays
,
holiday treats