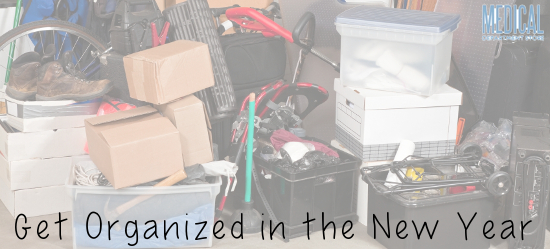 It's a New Year and that means it is time to get organized for the year ahead. Many people choose to get organized as a New Year's resolution, but many of those same people fall through with the commitments of organization. The Medical Department Store is bringing you easy tips for getting organized in 2015, so you can live stress free. Every room of your house can benefit from these organizational tips.
Get organized in the New Year with these tips:
Clean out the kitchen. Over the last year, your pantry surely collected dust on canned goods and boxed foods. Decide what your family will really eat, and donate the rest to the local food pantry. After you purge the items you will not use, wipe the shelves so there is no dust left behind.
Tackle organizing the garage. Cleaning out your garage may take more than a few hours, so enlist the family in this organization project. You may find items you forgot about and you will feel accomplished when you're finally able to fit two cars in there again.
Recycle papers you don't need. We all keep documents that become unnecessary over the years, so now is a good time to shred and toss. Look for local community shred days at banks and city centers. Your items will be safely disposed of.
Go through your closet. Let's face it; we all have a few too many clothing items that other people could benefit from. After going through your closet, hang your closes with the hanger facing the opposite way and as you wear clothing, put the hanger back the right way. At the end of the season, all the clothes still facing the opposite way can be donated if you haven't worn them.
The Medical Department Store wants to hear your organization tips! Contact us today if you have questions about our products and services.
Tags:
Get Organized
,
Organization
,
Organization Month