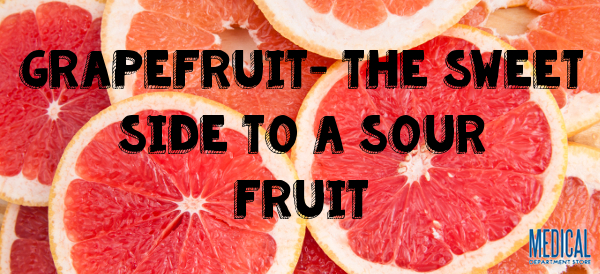 The Medical Department Store is lucky to be located in the sunshine state of Florida, where the weather is warm year round. We are also pleased that Florida produces around 75% of the grapefruit crop, so we get the best and juiciest of them all. Considered one of the world's healthiest foods, grapefruits are packed with vitamin C and other important vitamins and minerals. Today we are going to talk about some great ways to eat grapefruits and how you can add them to your favorite foods.
Broil your grapefruit– As if your morning fruit of choice wasn't already flavorful, there is a way to make it even more phenomenal.  Broiling grapefruit brings out the natural flavors and makes it a warm dish for a colder day. Directions: Cut the grapefruit in half and make slits throughout the fruit on its natural segments, then sprinkle cinnamon on top. Broil the halves for about 15 minutes or until golden brown. You'd be surprised at how delicious this is.
Grilled grapefruit– Living in the sunshine state means we can grill all year round! First cut the grapefruit in half then glaze each half with honey. Preheat the grill to hot, and place the fruit face down on the hot surface. Let it grill until there are grill marks, be sure to watch it so it doesn't burn.
Add grapefruit to your favorite salad– Grapefruit can add a sweet yet sour twist to any healthy salad. Grapefruit is great paired with spinach, nuts, and lean protein. Top it off with vinaigrette and you are set to eat a delicious and filling meal.
The Medical Department Store wants you to share your favorite way to eat grapefruit with us. For all of your home medical needs, please contact us so we can help you improve your quality of life today.
Tags:
grapefruit
,
grapefruit month
,
healthy eating