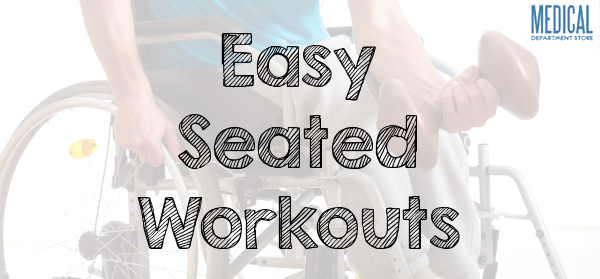 When you think of working out, you may think of a vigorous exercise routine at the gym. This doesn't have to be the case because let's face it, not everyone is able to get to the gym for various reasons. As age increases, physical activity can be hard to achieve each day. The Medical Department Store is bringing you easy seated workouts that you can complete in the comfort of your own home. Whether you have diabetes, your age is increasing, or you simply cannot do vigorous activity, these exercises are for you.
Easy Seated Workouts:
*Remember to only complete exercises that you are physically able to do, never overexert yourself to the point of injury.
Sit and Reach- Put your knees together while holding your back tall and reach one arm up to the ceiling. Hold for about 10 seconds and then do the other arm. For best results, make sure to do this at least twice on each side. This exercise will greatly improve your flexibility.
Seated Tap Dance- If you love to dance, this is the move for you! Hold onto the chair and plant both feet on the ground, slowly raise your heel and then put it back down in a tapping motion. You can also kick your legs out a little further for more of a workout. This exercise will help to improve leg muscles.
Kick and Clap- You may want to listen to your favorite tune while doing this exercise to make it more fun. While sitting in the chair, kick one leg up at a time while clapping your hands. Do 10 kicks total and rest as needed, then repeat. Your thigh muscles are the main area of concentration for this exercise.
Now that you have a few seated workouts, stay right where you are and get moving. The Medical Department Store has the perfect shoes for your workout. Check out our online catalog which is filled with footwear.
Tags:
Better Health
,
Better Me
,
Easy Workouts
,
Seated Workouts