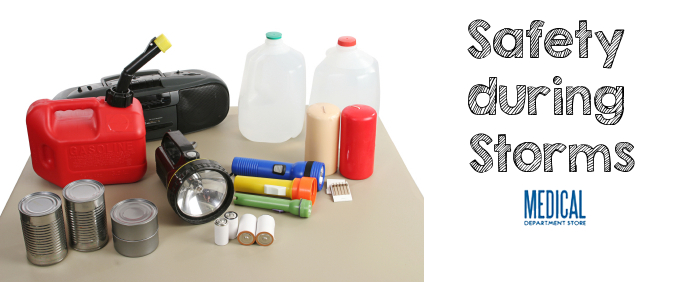 The Medical Department Store is located in Florida, which means we are at a higher risk for severe weather like hurricanes. Because of our higher risk for severe weather, we need to be extra prepared for a disaster. Today's blog is bringing you the importance of preparing a safety kit which includes back up home medical equipment for your safety.
Disaster Kit Necessities-
Portable Oxygen Concentrator– If you are dependent on an oxygen system, it is always a best practice to have a portable oxygen concentrator in case the power were to go out. A portable system will enable you to have an adequate amount of oxygen if you are unable to use your at home system.
Manual Wheelchair– During a natural disaster, there is no guarantee as to when the power will kick back on or if you will need to immediately evacuate your location. A manual wheelchair is a promised way to get around during a disaster. Your power wheelchair is great, but if the battery dies, they are nearly impossible to push around. Save yourself and your caregiver the stress by getting a transport chair or manual wheelchair for a disaster.
First Aid Kit– This may seem like a no brainer, but remembering to have a first aid kit in your storm shelter could save a life. Basic medical supplies like band aids, gauze and anti-bacterial ointment can easily clean up cuts and bruises. The Medical Department Store carries wound care items to make preparing your first aid kit easier.
Extra food and water- Keep at least a two day supply of food and water in your storm kit just in case you are stuck at home. Canned foods that do not need to be heated or kept cool are the best option during an emergency.
The Medical Department Store hopes you do not need to use these tips, but they are here for your safety during a storm or hurricane. Contact us if you need a portable oxygen concentrator or manual wheelchair for a disaster.
Tags:
bad weather
,
prepare for the storm
,
weather