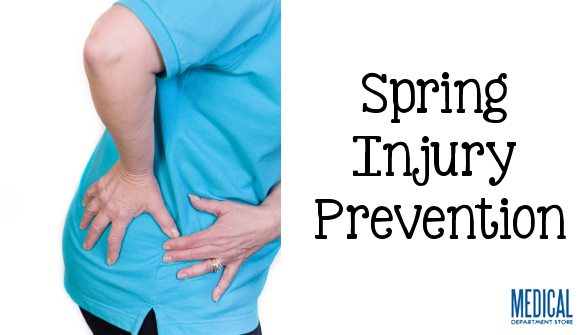 With spring in swing, many of your friends and family are out pushing their bodies to the limit either exercising outside or doing heavy yard work to clean up what winter has left in the garden.  As medical professionals, we know pushing yourself too hard after a long immobile winter is a bad idea.  We know you're excited to get outside and get active again, but please proceed with caution.
Here are some tips to keep you healthy in spring swing:
The most important tip is to take your time.  Many individuals want to clean their garden quickly or want to get their body back in shape quickly so they pick up where they left off in the fall work load.  Your muscles are not ready and need to be eased back in to action over the course of a few weeks.
Another important tip for gardening specifically is to use the necessary tools and stretch.  Before you head out to the garden, stretch out your arms and legs properly and make sure your body is ready.  Don't try to do everything by hand, but use your gardening utensils to help you.  This will prevent you from over using your back or pulling muscles in your hands and arms from too much labor.  Finally, lift with your legs, not your back.
For those of you getting your physique beach-ready, do not exceed a 10 percent increase in effort on workout days.  Your lungs may be telling you to keep going, but your muscles and joints can't handle it.  This is because your cardio tends to bounce back quicker than your muscles and joints.  Take it easy and take it slow, your muscles will catch up.
Of course, if you do push yourself too hard and are in need of home medical supplies, give the Medical Department Store a call!