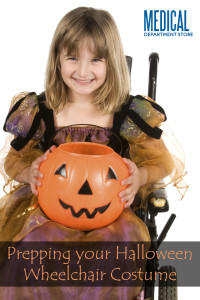 Life can be hard on a child when they have obvious differences. No one knows this better than a parent whose child has mobility issues! However, because Halloween is the time of the year when everyone dresses up as something different, this is a time to let your child's uniqueness stand out. With a little bit of creativity, you can turn your child's wheelchair into a fun Halloween costume. Before you get started, however, keep these things in mind:
Collect as much cardboard as possible
Cardboard is essential when creating a homemade wheelchair Halloween costume. With their boxy shapes, you can easily fashion the wheelchair into a vehicle such as a space ship, fire truck or pirate ship. You can even cut them into fun shapes such as dragons or superhero vehicles.
It's easy for pirate swords, grim reaper scythes or fairy wands to slip from a child's hand and fall into the wheel or other moving parts. Likewise, tulle or other fabric can also create a hazard.
Make sure it can come off easily
In the excitement of making the costume, it's easy to forget about things such as entryways. Make sure the costume can slip on and off easily enough that your child can get in and out of the house without a lot of hassle.
As you may have already experienced from Halloweens in the past, it can be really frustrating for a child wheelchair user to try and ring doorbells that require you to go up a few steps—and when you multiple that several times throughout a night, it can be downright distressing! But, other parents have found that when the costumes really stand out, people will approach your child to hand him or her candy!
We want everyone to have a safe and fun Halloween at Medical Department Store. The next time you need mobility supplies, make sure you check out our online catalog.